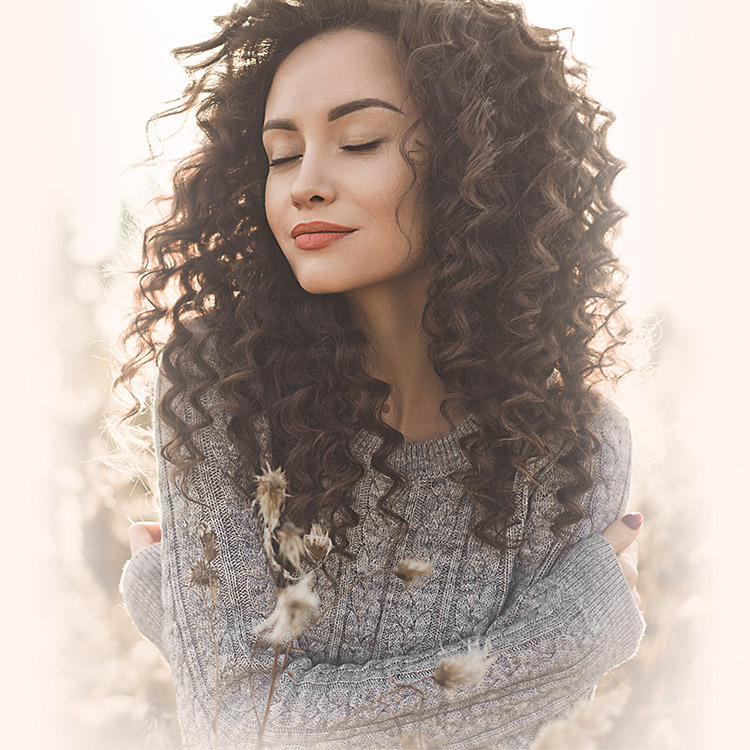 Curly
#curlrevolution
Change your curly hair expectations. The tighter the curl, we describe hair as big not long… TBH if you can, fight society's unrealistic expectations on curly textures.
Relax and know your curl
So guess what, you can have many curl textures on your head (FYI…this is normal), a curl typing system was created by Andre Walker aka Oprah's hair go to and tweaked within the curl community to help you with identifying textures and best curl maintenance.
Have a look at the images below which show the Type 3 Curl type (aka curly hair textures), with 3 sub-categories A, B and C.
We encourage you to know and relish in the greatness that is your wave texture. Believe us when we say, DON'T stress over your curl type. Curly hair maintenance is easier than you think, have possibly thought or than society has conditioned us curlies to think.
Using our trusted ranges of hydrating products from Embrace For Every Curl, TGIN and Jane Carter Solutions, we will help you and your locks thrive without a shadow of doubt. Our curl experts are here for you every step of the way. We will help you create a curl maintenance routine personal to you.
If you are too far from our Sydney flagship salon, THINK HYDRATION, HYDRATION, HYDRATION and you will not go wrong until your next curl specialist visit.
So what curly hair type are you?
Let's keep it simple. Look for an image that closely resembles the majority of your curl texture and once you do, hydrate, hydrate, hydrate (Can't say this enough). Tweak as needed then for all the other questions, our curl experts will be more than happy to help.
NB: If you didn't find an accurate image on this page, explore WAVY or the AFRO textures. Happy curl hunting!
3A
Curls are large and loose, about the size of two average adult fingers put together
Curls tend to be shiny and smooth
Can fairly easily alternate between straight and curly styling
Use light products that will give flexible hold
3B
Curls are springy, ringlets thickness similar to a sharpie marker
Curls are often coarse and dense
Texture becomes challenging to straighten
Curls will thrive with hydrating gels creams and styling milks
3C
Curls are tight corkscrews that range in circumference from a straw to a pencil
Strands are coarse and densely packed with natural volume
Avoid heat use when possible
Use protective styling to stretch or curl hair by way of braids, twist sets, perm, straw and flexi-rod sets
Deep condition once week1
Frizziness and shrinkage can be a concern
Characteristics
Defined lowercase "s" with the occasional uppercase "S" or even "z" shape curl
Curls can be voluminous with or without products
Strand diameter is generally thicker than looser curl textures
Prone to being dull and frizzy
Curls become increasingly challenging to straighten
Maintenance products on top of hydrating must give shine
When dry or damaged, curly hair locks can fall flat
General rules
Use pH balanced moisturising products, creams. gels and mousses
May need curl refresher sprays or water to redefine curls as needed
"I feel empowered to embrace all of myself and educated about my natural hair, what it needs and how it ought to be treated."

"Rumbie & Co always makes me feel welcomed and it's like I'm chatting with friends. From the moment you walk in until you leave, the professionalism and sound advice has definitely made my natural hair journey all that easier to handle. I've searched far and wide for a hairstylist that knows how to handle my hair type and since coming to Rumbie & Co, I have never looked back!"

"Very lovely staff and Rumbie is especially gorgeous! Gave me great advice on maintaining curly hair and the cut was superb."

"Very welcoming environment from Rumbie her staff and her clients, Professional service from start to finish after care hair advice was easy to understand and to implement, im embracing my natural curls thanks to Rumbie and her staff after years of neglect Rumbie has brought life back into my hair and her recommendation of hair products are amazing and affordable. THANK YOU!"

"I visited Rumbie & Co for my 1st haircut in several years & couldn't be happier with the result. It was the most stress-free haircut I have ever experienced. Thankyou Rumbie for providing such a beautiful environment and being gracious and confident in your skills - as well as understanding of the hair experiences that have brought clients like myself to you. My expectations were well & truly exceeded & I would highly recommend this salon."

"This woman is a wonder with dreads. My locs are always pristine after my appointment and they stay looking so sharp for the whole month. She is wonderful to be around too. Such positive vibes. Her salon is always a fun place to be. With so many interesting people coming through. This place is a real sanctuary for everyone especially people of colour! Yeah you could find cheaper but you will find no better. Not in Sydney. Perhaps not even the world...I (and my dreads) thank you!"